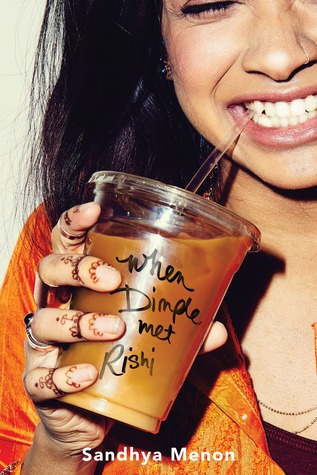 Title: When Dimple Met Rishi
Author: Sandhya Menon
Release Date: May 30, 2017
Publisher: Simon Pulse
Review Copy: ARC won from giveaway
A laugh-out-loud, heartfelt YA romantic comedy, told in alternating perspectives, about two Indian-American teens whose parents have arranged for them to be married.
Dimple Shah has it all figured out. With graduation behind her, she's more than ready for a break from her family, from Mamma's inexplicable obsession with her finding the "Ideal Indian Husband." Ugh. Dimple knows they must respect her principles on some level, though. If they truly believed she needed a husband right now, they wouldn't have paid for her to attend a summer program for aspiring web developers…right?
Rishi Patel is a hopeless romantic. So when his parents tell him that his future wife will be attending the same summer program as him—wherein he'll have to woo her—he's totally on board. Because as silly as it sounds to most people in his life, Rishi wants to be arranged, believes in the power of tradition, stability, and being a part of something much bigger than himself.
The Shahs and Patels didn't mean to start turning the wheels on this "suggested arrangement" so early in their children's lives, but when they noticed them both gravitate toward the same summer program, they figured, Why not?
Dimple and Rishi may think they have each other figured out. But when opposites clash, love works hard to prove itself in the most unexpected ways.
When Dimple Met Rishi is one for the books. Not only is it just a beautiful rom com, but it's also an amazing story about breaking barriers and stereotypes.
Books that teach me about different cultures are always intriguing to me, especially when it's part of the story and not some textbook I read in school. It feels more like a natural conversation between me and the book. WDMR is heavy on Indian culture and traditions, and I loved that about it. There's definitely some taboo about arranged marriages in this century, but people need to realize they're more common than we think. People in arranged marriages do it for many reasons, and not just money. As a western society we need to be more accepting of these different beliefs and cultures, especially when they're not our own. Thank you Sandhya for opening my horizons.
I want to talk about stereotypical gender roles. That whole girls wear pink, boys wear blue nonsense has got to end. In this book, we have Dimple, whose super smart in computers and could give two shits about makeup. All the power to Dimple! Just because she is could care less about how her hair looks and such, doesn't mean she isn't going to run the world or make a change. A woman doesn't have to have all her shit together in order to be taken seriously or make a difference. Bitches are going to get the shit done!
I absolutely loved the plot of this story. The concept of using a summer program as the background plot, you know it's going to be a good time. We have teens that act like teens, that make memories, mistakes, fall in love and all the other gushy things that can happen. There wasn't a chapter of this book where I wasn't giggling over one thing or another. Half the time I would be reading on the bus and have to control my laughter without causing a fuss.
There's not many contemporary books where there is a male POV, but when there is, I savor it for as long as I can. the book world definitely needs more male YA books, especially in the contemporary genre. Guys can be just as intense and emotional as girls and it's important to show that there's no shame in that. It's another bubble that people need to pop.
I love the importance of family in this book. It gave me
My Big Fat Greek Wedding
vibes throughout. Nowadays, there's often a disconnect between families. Either families are 100% together or they 100% don't care about what is happening. But its become more normal for families not to know how other family members are doing and that needs to change. I definitely appreciated the families getting into their children's businesses, as that's a common thing. But it gave me a good laugh as to their timing and what they'd discuss, as i realized that would would be my future after I moved out on my own. It made me feel like the book was hugging me.
I was super excited to have won this arc and I cannot wait for more people to read it once its out in stores. Readers need more books with the various components I mentioned above.