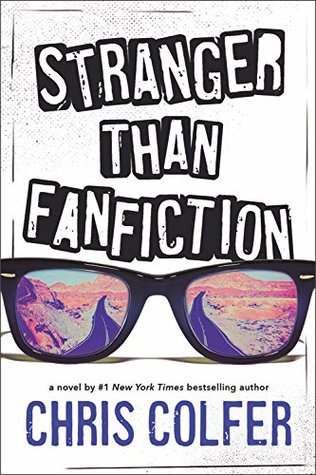 Title: Stranger than Fanfiction
Author: Chris Colfer
Release Date: February 28, 2017
Publisher: Little, Brown Books for Young Readers
Review Copy: From publisher in exchange of honest review
Cash Carter is the young, world famous lead actor of the hit television Wiz Kids. When four fans jokingly invite him on a cross-country road trip, they are shocked that he actually takes them up on it. Chased by paparazzi and hounded by reporters, this unlikely crew takes off on a journey of a lifetime--but along the way they discover that the star they love has deep secrets he's been keeping. What they come to learn about the life of the mysterious person they thought they knew will teach them about the power of empathy and the unbreakable bond of true friendship.
When people hear Chris Colfer, they automatically associate him with Glee. But the realm of skills that Chris has goes beyond just Glee. He's a director, screenwriter, and one bloody talented author, and don't forget singer.
Stranger than Fanfiction is a book I related to on more than one level. For those of you who don't know, outside of blogging, school and reading, I help with our local comic con here in Winnipeg. I will spare you the details of that life for this is a book review and not a story about me. But in summary, I have experience with celebrities behind the scenes. On this level, I related to all the characters.
This book felt raw, and but the good kind. Chris brought to light both sides of what it's like to be a fan but also, what it's like to be that person everyone looks up to. I would want no other author than Chris to write such a book. He lives and breathes it on a daily basis.
I want to give a shout out to Chris for having all these 90 kids' references in the book. I definitely had my share of giggles and the odd laughing out loud moments. In hindsight, it makes me sad that readers won't understand all of them.
The actual story was fairly meaty, it had the odd cliché contemporary moment but from such a plot as the book was, I fully expected these moments. We have Sam, Topher, Joey and Mo who are on a whirlwind high school graduation road trip. They each have their own weight on their shoulders due to a secret each of them are hiding from the group. Then we have Cash Carter who has thrown in the towel to life's responsibilities and join them on their grand adventure. From the first chapter you can feel something is affecting him on an emotional level. This plus the interesting plot is what kept me wanting to read more. Secrets that felt like life or death to the character.
Development of characters was average for what you'd expect for a book with 5 alternative points of view. While I appreciate the effort Chris put into the characters, there were times where I wanted more meat.
This book portrays perfectly how the illusion of what you see on screen, or on stage can be shattered in an instant. Sam, Topher, Joey and Mo come to see as Cash as someone like them, wanting adventure, to live life to the fullest but also having people to join them on this journey. It makes you as a reader to step back and think of who we admire and look up to, and think about what do we see from them; is it an optical illusion or not.
Sensitivity Note: There is one paragraph in the book that talks about disability that can bother some readers depending on how their view is with some wording. This happens in the first bit of the book and it's not mentioned again until the end for a few sentences. As someone who has a disability, I felt it was necessary to point out.