Book Nerd Bites is an original monthly feature created by Becca at
Becca and Books
, Cyra at
Rattle the Pages
, Me
, Natasha at
A Binding Attraction
, and Valerie at
He Said Books or Me
as part of the Book Blogger Creativity Project hosted by Nori at
Read Write Love 28
. Each month we will be sharing exciting recipes inspired by some of our favorite books. Feel free to join in, but please make sure you link your post back to us so we can enjoy your favorite bookish delights as well!
When I think of books, I also think of libraries and how I dream of my own gorgeous library to have of my own. With this thought in mind, I felt the only natural book to showcase was about a book involving libraries. Let me introduce you to Air Awakens.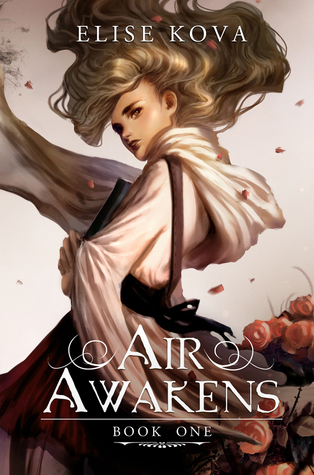 A library apprentice, a sorcerer prince, and an unbreakable magic bond...
The Solaris Empire is one conquest away from uniting the continent, and the rare elemental magic sleeping in seventeen-year-old library apprentice Vhalla Yarl could shift the tides of war.
Vhalla has always been taught to fear the Tower of Sorcerers, a mysterious magic society, and has been happy in her quiet world of books. But after she unknowingly saves the life of one of the most powerful sorcerers of them all—the Crown Prince Aldrik—she finds herself enticed into his world. Now she must decide her future: Embrace her sorcery and leave the life she's known, or eradicate her magic and remain as she's always been. And with powerful forces lurking in the shadows, Vhalla's indecision could cost her more than she ever imagined.
When the ladies and I first started this project, I immediately started making a mental list as to what books/authors I was going to contact. So when I contacted Elise about featuring Vhalla's story, Elise talked about how when she was writing the story she ate a lot of Starbucks Lemon Pound Cake. Which, when I read, I'm pretty sure I made a sour face thinking about how many pieces she has probably eaten in that time. But in eating all that cake, she modeled Vhalla's favourite food off that cake and just simply called it "Lemon Cakes". So because there wasn't a specific recipe that Elise referred me to, I just went on good old Pinterest and searched.
Now, like some of the other ladies on the team, I unfortunately had little time to make these Lemon Cakes for myself. However, I did find an amazing recipe that I plan on making when I have free time. I will definitely post pictures during next months post as to the end result of this loaf. But I expect nothing but delicious results.



Better Than Starbucks Lemon Loaf




INGREDIENTS:




Loaf

1½ c. flour

1 (3.4 oz.) package, instant Lemon pudding mix

½ tsp. baking powder

½ tsp. baking soda

½ tsp. salt

3 eggs

1 c. sugar

2 Tbsp. butter, softened

1 tsp. vanilla

2 tsp. lemon extract

⅓ c. fresh lemon juice

½ c. oil

¾ c. plain Greek yogurt

zest of one lemon




Glaze

3 Tbsp. Butter, soft but not melted

1½ c. powdered sugar

3 Tbsp. lemon juice

1 tsp. lemon extract




DIRECTIONS:

Preheat oven to 350 degrees. Line the bottom of a 5 x 9" loaf pan with a piece of waxed paper. (With a pencil, trace the bottom of the pan on a piece of waxed paper and cut out with scissors.) Spray the pan, and waxed paper with non-stick baking spray. Set aside.
In a mixing bowl, combine the flour, pudding mix, baking powder, baking soda, and salt. With a stand or hand mixer, combine the eggs, sugar, butter, vanilla, lemon extract, lemon juice, oil and yogurt. Mix until evenly combined. Gradually add the dry ingredients to the wet, stopping to scrape down the sides of the bowl. Add the lemon zest, and mix until just combined. Pour the batter into the prepared loaf pan. Bake for 55 minutes, or until center is fully set, and a toothpick inserted comes out crumb free.
After baking, let cool in the pan for 5-10 minutes. Run a knife around the sides of the pan, invert and remove from the pan, removing the waxed paper from the bottom. Cool completely on a cooling rack.
For the frosting: Combine the butter, lemon juice and lemon extract with hand or stand mixer. Gradually add the powdered sugar, and beat until smooth and creamy. Evenly spread the frosting over the top of the loaf. Refrigerate to let frosting set completely before slicing. Refrigerate any leftovers in an airtight container.
Well I'm just sitting here drooling thinking about this loaf feeling excited about getting into the kitchen and making a loaf. Until next month, happy reading and bon appetit!
1