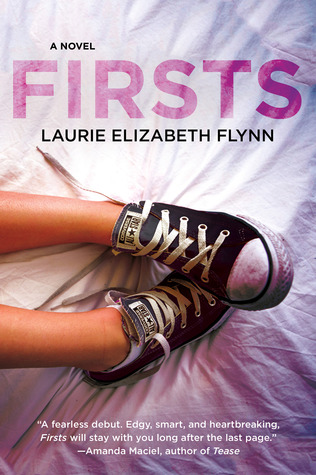 Title: Firsts
Author: Laurie Elizabeth Flynn
Release Date: January 5, 2016
Publisher: St Martin's Press
Seventeen-year-old Mercedes Ayres has an open-door policy when it comes to her bedroom, but only if the guy fulfills a specific criteria: he has to be a virgin. Mercedes lets the boys get their awkward, fumbling first times over with, and all she asks in return is that they give their girlfriends the perfect first time- the kind Mercedes never had herself.
Keeping what goes on in her bedroom a secret has been easy- so far. Her absentee mother isn't home nearly enough to know about Mercedes' extracurricular activities, and her uber-religious best friend, Angela, won't even say the word "sex" until she gets married. But Mercedes doesn't bank on Angela's boyfriend finding out about her services and wanting a turn- or on Zach, who likes her for who she is instead of what she can do in bed.
When Mercedes' perfect system falls apart, she has to find a way to salvage her reputation and figure out where her heart really belongs in the process. Funny, smart, and true-to-life, FIRSTS is a one-of-a-kind young adult novel about growing up.
Laurie's Top 10 List of Firsts




1) First pet: We had gerbils when I was a little kid (Leaper and Jumper!) then we got a dog named Joey. He was a Maltese-Poodle mix and was very dearly loved. I still remember the first day we brought him home, how soft and tiny he was. That day-- and the relationship that followed-- solidified my lifelong love of dogs!




2) First dance: I hated my first grade school dance because nobody asked me... so I stood there, swaying awkwardly on the sidelines, pretending I didn't care.




3) First celebrity crush: I had a huge crush on Kevin Costner after seeing Robin Hood, Prince of Thieves (fun fact: I have that entire movie memorized). I didn't seem to care at the time that he was old enough to be my parent. (FYI, I still have a crush on him

now.)




4) First day of high school: I wore running shoes, shiny blue tear-away pants, and an oversized T-shirt that said "Nike Running" on the front. My braces were blue and orange and they matched my outfit (that was intentional). I was terrified to get out of my mom's car that day.




5) First party: I threw a party in my parents' basement. It was not exactly a roaring success. Apparently it was downright boring, and people snuck away to smoke in the walkway near my house. Somehow, cake ended up ground into the basement carpet. I think blue icing is still there today.




6) First kiss: Also happened in my parents' basement, right in front of the dollhouse I was obsessed with as a kid. I was sixteen and still had braces, but I had stopped colour-coordinating them with my outfits by then.




7) First job: I was a pony handler for pony rides at a local park when I was a preteen, then I got a job as a cashier at the grocery store when I was in high school. I secretly loved reading all the celebrity gossip magazines when it wasn't busy.




8) First move: I moved away from home in my second year of university to Victoria, British Columbia. I lived in residence there. It's such a beautiful city and I loved the campus. (There are bunnies everywhere!)




9) First apartment: Aside from residence, I lived in twelve different apartments before my husband and I bought our house. The first one was in downtown Toronto when I was

modeling-- I shared a tiny bathroom with several other models. (Not a good experience!)




10) First road trip: I was late to this one! In fact, it just happened last summer. My husband and I toured British Columbia, Alberta, the Yukon, and Alaska, with a brief stop in the Northwest Territories, all in our trusty van.
About the Author
Laurie Elizabeth Flynn writes contemporary fiction for young adults. Her debut, FIRSTS, will be published by Thomas Dunne Books/St Martin's Press in 2016.
Laurie went to school for Journalism, where the most important thing she learned was that she would rather write made-up stories than report the news. She also worked as a model, a job that took her overseas to Tokyo, Athens, and Paris.
Laurie now lives in London, Ontario with her husband Steve, who is very understanding when she would rather spend time with the people in her head. Laurie can mostly be found writing happily at her desk, with the world's most spoiled Chihuahua on her lap. Laurie drinks way too much coffee, snorts when she laughs, and times herself when she does crossword puzzles.